About the Pup-Park Program. This indoor dog play is perfect for the dogs (and humans) who like air conditioning in the summer and heat in the winter. And it is a great place to get exercise while staying out of the rain! The dog play is monitored by Pup-A-Razzi staff, ensuring a good time for all.
We offer three play sessions (1 hour each) with different play requirements. All dogs are allowed into the dog park so long as they meet the requirements for that session. No food is allowed on the playground as this is usually what starts the pup-wars in the park.
The cost to Play:
$13 for one play session
$72 for six play sessions
Want to sign up or want more information? Email or call 503.259.8978.
---
Small Dog Social Hour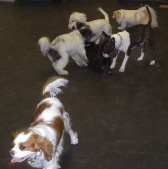 This hour is open to all friendly dogs under 20lbs. If you have a Toy or other small breed that is slightly over 20 pounds, please contact our trainers for approval. Supervised by a trainer, this social hour is great for the little guys to gain confidence. Outgoing small dogs can run around with their buddies without fear of being trampled by a larger dog.
Prerequisite: under 20 pounds of body weight. This Play hour DOES NOT require a evaluation, but your dog must be friendly with other dogs.
---
Arena rentals are available if you would like to do play times on your own.
Puppy Play Times –
Cancelled until further notice
This hour is designed to let the puppies go wild! A maximum of twelve puppies of all sizes and breeds are set free to play in the indoor play-park. The playground monitor reserves the right to "age out" any puppy who is no longer playing appropriately with the other puppies, acting aggressively, or resource guarding. Socialization is critical for all puppies, but Puppy Play Time is not a substitute for obedience class.
Puppy Play Time – Cancelled until further notice
Prerequisites: The puppies must be under five months of age, either be enrolled (to start) or have finished a Puppy Training & Socialization class here at Pup-A-Razzi, and have their twelve-week puppy immunization shots.
Tweener Play Time – Cancelled until further notice
Open to all pups at least 5 months to 18 months of age who are enrolled in (or completed) one of our classes.