Meet Our Dog Trainers
---
Desiree "Dezi" Engel – Obedience Training
I am married with two children.  Currently we have 2 dogs, a 6 year old Papillon "Bitsy" she belongs to my Oldest son, then we have Wicked who is a 2 year old Whippet and an upcoming trick dog star!  She has earned her Novice and Intermediate trick dog Titles.
I first became interested in training when I got my Golden Retriever, Sissy.  Training her was so much fun, and is something that we continued right up to the end, at 10 years old, she learned her last trick…  SPEAK!
I have been working with dogs professionally since 2005′ when I owned/operated a Grooming, training and daycare facility.
I attended Animal Behavior College in 2006/2007.
I worked as a volunteer at Oregon Humane Society, where I was able to work with a wide range of dogs with many different issues and talents.  I was even able to work with a 10 year old blind and deaf dog.  With this dog we had to come up with touch commands to train her, after she learned some basic commands, she was then adopted after having been in the shelter for over a year!
I have been with Pup-A-Razzi for almost 5 years now.
I have worked with many dogs over the years, and I love it!  My goal is for all dog owners to discover the fun and bonding that training your dog brings.
I really enjoy having the whole family get in on the training as well.  It is a great way for the kids and their dogs to learn together, it gives everyone a great sense of accomplishment while staying on the same page with training.
AKC Canine Good Citizen Evaluator ~ Certified Trick Dog Instructor 
---
Jana Gray – Obedience Trainer
Jana Gray loves all dogs but grew up with German Shepherds and still likes German Shepherds and other herding type dogs the most. She currently lives in Carlton, Oregon with a German Shepherd and a Border Collie. In addition to the two dogs, her family includes two children, four horses, twelve cats, ten chickens and one very patient husband.
She completed the Dog Trainers Academy at San Francisco SPCA with Jean Donaldson and taught dog training classes at the Napa Valley Dog training club for five years before making the move to Oregon She prefers positive reinforcement training and clicker training. She is also a veteran of Chicken Camp with Bob Bailey. She competed in AKC obedience for a short time earning a CGC and CD with her German Shepherd Dog, Morgan and a CGC with mixed breed Cleo.
She was a foster mom for German Shepherd rescue in California and then set out on her own creating an independent rescue group focusing on the white German Shepherds and at one time had as many as five dogs in residence. She is a graduate of UC Davis and teaches high school science when not training dogs.
---
Lucy Bitz – Agility Dog Trainer and Conformation Instructor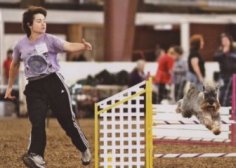 Lucy is the owner of a pack of Standard Schnauzers and Affenpinschers (monkey-like terriers) who all love showing in both the conformation and agility ring.  She has taken a crash-course in the world of showing and training dogs for the last six years and has a background in teaching both middle school and group exercise classes. She found her calling later in life although she should have recognized this calling when as a young child she used gather up all the dogs in the neighborhood and "play" doggie day care in the back yard. During these years she also rescued her first dog who was never allowed to attend her day care program and instead had spent his entire life tied to a stake.
Lucy has been showing in the conformation ring for four years and in the agility ring one year while earning five titles in 12 months!
Lucy is very excited about her role as owner of Pup-A-Razzi. She has been a very satisfied graduate of many great training classes over the past six years, and she is now looking forward to finding new ways to challenge both our dog and human clients.
---
Carrol Haines – Musical Freestyle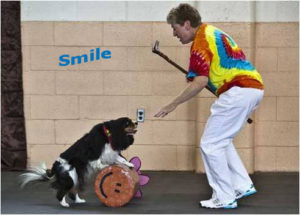 Carrol is a retired Engineering Technician.  Currently there are four small dogs sharing their lives with her.  She got into dog sports when she adopted her very active and yippy Terrier Mix, Katie, who desperately needed a job.  Carrol and her dogs have competed in Obedience, Rally Obedience, Agility, and Canine Musical Freestyle.  She has recently added Nose Work to the list of dog activities.  You have probably seen her over the past five years putting on musical freestyle demos with her pack, various friends from her freestyle clubs, and some of her students.  Her three dancing dogs, Katie, Breezee, and Tobi, have competed in Oregon, Washington,  and Canada and hold intermediate and advanced titles in Canine Musical Freestyle and Heelwork to Music.  She is a board member of the Dogs Gone Dancin' Club in Oregon and holds membership in the Emerald City K9 Freestyle Dancers and Paws 2 Dance clubs as well as the World Canine Freestyle Organization.  Carrol teaches beginning and intermediate freestyle classes at Pup-A-Razzi! See musical freestyle or the Dog Training Class Sign-up Form.