Our specialty-retail store is filled with quality dog foods, training tools, toys and treats. You'll find dog food  from First Mate, Taste of the wild, Acana & Ziwi Peak. We have quality dog treats: Real Meat, Cloud Star & Vital Essentials brands and more great training tools in our store.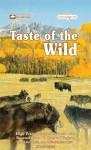 In continued efforts to improve our retail store, we have added some supplements: G.I. Balance & Joint Power from Super Snouts, as well as Firm Up Pumpkin from Diggin your Dog.

Acana dog food, from the makers of Champion Pet Foods (they also make Orijen), is grain-free, high-protein, and low-carbohydrate to match the natural,  biologically appropriate diet of dogs. All ingredients are human food grade and originate "locally" to the plant.  We are impressed with the quality of this product and invite you to try it soon!
We also have some treats, Cloud Star Tricky Trainers, Real Meat, Vital Essentials, & Stella & Chewy.  Both small treats and easy to tear up!  We now also have Acans's new Treats and their new Freeze Dried Morsels!