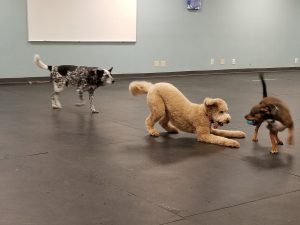 Better than Doggy Day Care
Drop your dog off between 7am and 9am Monday through Friday. Pick up time for a full day is 6 PM, and for a half day 2 PM.  If you can not come on your scheduled day, please call or email and let us know.  (503) 259-8978  info@pup-a-razzi.com  
Your dog will be cared for all day long. Each dog will have his own private area where he can rest comfortably between activities. Our Doggy Day Training is suitable for a wide variety of dogs, including some that may not be appropriate for traditional daycare. Activities included in the Basic Day Training package include:
Day Training – Basic Package
Basic Manners: Leash manners, sit and wait at the door, down, stay, relax/settle & Skill of the month!
Potty walks, running and fetching in our indoor arena
Socialization and play-dates with appropriate dogs when available
Potty breaks
Naptime in a private "cabana" (aka kennel)
Dogs "nap" during lunchtime and while others are being walked.                                                                                                                                                               
Please note: Tuition maybe transferable, but is not refundable.
Evaluation is 28.00 and MUST be paid at the time of scheduling.
Full Day Rates:
$40 per day
6-pack $217 ($36.16/day)
12-pack $390 ($32.50/day)
Half Day Rates:
$26 per half day
6-Pack $142 ($23.66/day)
12-Pack $252 $(21.00/day
Boot Camp – A New Program for You & Your Dog!
Have you heard about the newest program at Pup-A-Razzi?
Doggy Boot Camp is a service we at Pup-A-Razzi like to call "Day training with a difference!" Doggy Boot Camp offers a place for dog owners to bring their dogs for a day filled with individualized training, exercise, and fun.
With our qualified trainers at Doggy Boot Camp, your dog can learn new behaviors, sharpen known ones, or better yet ditch some pesky habits! In addition to basic  manners and obedience, the dogs at Doggy Boot Camp can work on behavioral issues, sports, tricks, and much more!
Your dog is welcome to spend part of his day or all of his day at Pup-A-Razzi where he'll be provided with the essential mental and physical stimuli for a happy healthy dog!
Curious about what your dog did each and every day? We thought of that too! Each dog is sent home daily with a report card outlining the dogs amazing day including but not limited to what type of exercises he partook in and what new tricks he's working on impressing you with.
Doggy Boot Camp is currently available on Tuesday-Friday.
Full Day Rates:
$55
6-Pack $305
12-Pack $582
Half Day Rates:
$40
6-Pack $210
12-Pack $390
Other requests? Just ask!
See our "Forms & Prices Page for the Day Training Contract