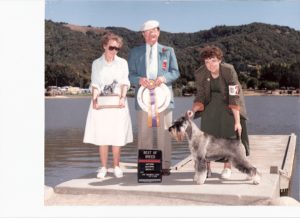 Join us for drop-in conformation classes each Thursday at 7:30pm. Taught by Kimarie Wolf , Betsy Peets & Lucy Bitz. This class will help you and your dog prepare for the show ring.
---

Lucy assists when the class is large and requires two people to provide the personal attention that we think you need when you pay for a handling class.  She is the proud owner/handler of a CH Standard Schnauzer (that is also agility titled) and has handled for others at all-breed and specialty shows.  Come visit us and see the difference our teamwork can make for your dog/handler team!
Introduction to Conformation
Are you interested in showing your dog?  Not sure that you are ready for drop-in conformation class?  We have the class for you!  Introduction to conformation.
This will be a 3-week class for beginners!  Learn how to handle your dog in the show ring from the beginning.  The cost is 110.00 and will be Thursday evenings at 6:15 PM starting August 17th.